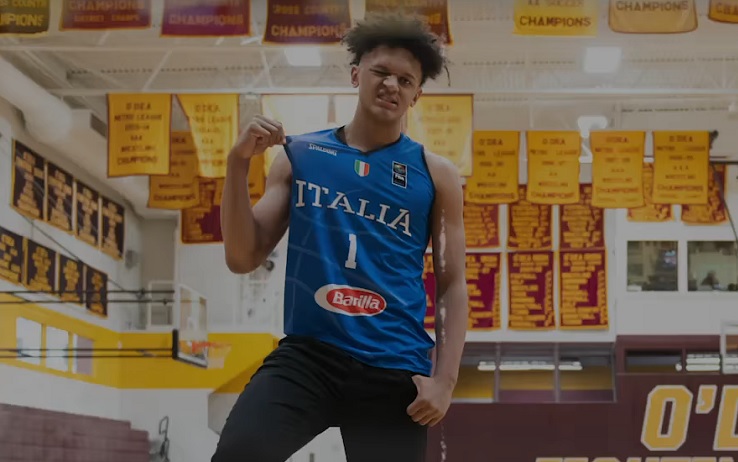 Paolo Banchero, Mark Williams, AJ Griffin, Wendell Moore Jr., Trevor Keels. La splendida cinquina in uscita da Duke  chiamata al Draft NBA 2022 corona il successo nel recruiting di  Mike Krzyzewski. Per John Scheyer, che dal prossimo anno prenderà il posto di coach K sulla panchina dei Blue Devils, l'asticella è posta molto in alto.
Duke, dopo Paolo Banchero e coach K si riparte così
Una serie di tweet del nuovo capo programma in cui si ricorda il peso di un'eredità da portare avanti con orgoglio e responsabilità:
"73 giocatori scelti al Draft. 43 giocatori scelti al primo giro. 29 giocatori scelti in Lottery. Quattro prime scelte assolute. Riflettendo sul Draft NBA, [ciò che è successo] è un ulteriore segno del percorso che Coach K e Duke hanno compiuto nell'aiutare giovani uomini a raggiungere il loro sogno più grande: sentire il proprio nome chiamato nella notte del Draft. È stato un onore essere presente per poter sentire quelli di Paolo, Mark, AJ, Wendell e Trevor. Ognuno di loro è arrivato al campus lo scorso anno mostrando attenzione verso i compagni, il loro progresso individuale e le vittorie. Ora che iniziamo la prima settimana di lavoro con la nostra squadra, mi viene ricordato che la legacy prosegue, nei nostri valori, nel nostro impegno per lo sviluppo dei giocatori e sul palcoscenico senza pari che Duke può offrire."
73 Draft Picks. 43 First-Round Picks. 29 Lottery Picks. 4 #1 Overall Picks.

As I reflect on the NBA Draft, it's another reminder of the incredible run that Coach K and Duke have had in helping young men reach their ultimate dream – hearing their names called on draft night.

— Jon Scheyer (@JonScheyer) June 26, 2022
Draft NBA, tutti i prospetti usciti da Duke nell'era di coach K, anno per anno
Fonte: Real GM.
ANNO DRAFT NBA
GIOCATORE
SCELTA DRAFT NBA
SQUADRA NBA DRAFT
2022
Paolo Banchero
1
Orlando Magic
Mark Williams
15
Charlotte Hornets
AJ Griffin Jr.
16
Atlanta Hawks
Wendell Moore Jr.
26
Dallas Mavericks
Trevor Keels
42
New York Knicks
2021
Jalen Johnson
20
Atlanta Hawks
2020
Vernon Carey Jr.
32
Charlotte Hornets
Tre Jones
41
San Antonio Spurs
Cassius Stanley
54
Indiana Pacers
2019
Zion Williamson
1
New Orleans Pelicans
RJ Barrett
3
New York Knicks
Cam Reddish
10
Atlanta Hawks
2018
Marvin Bagley III
2
Sacramento Kings
Wendell Carter Jr.
7
Chicago Bulls
Grayson Allen
21
Utah Jazz
Gary Trent Jr.
37
Sacramento Kings
2017
Jayson Tatum
3
Boston Celtics
Luke Kennard
12
Detroit Pistons
Harry Giles
20
Portland Trail Blazers
Frank Jackson
31
Charlotte Hornets
Semi Ojeleye
37
Boston Celtics
2016
Brandon Ingram
2
Los Angeles Lakers
Michael Patrick Gbinije
49
Detroit Pistons
2015
Jahlil Okafor
3
Philadelphia 76ers
Justise Winslow
10
Miami Heat
Tyus Jones
24
Cleveland Cavaliers
2014
Jabari Parker
2
Milwaukee Bucks
Rodney Hood
23
Utah Jazz
2013
Mason Plumlee
22
Brooklyn Nets
Ryan Kelly
48
Los Angeles Lakers
2012
Austin Rivers
10
New Orleans Pelicans
Miles Plumlee
26
Indiana Pacers
2011
Kyrie Irving
1
Cleveland Cavaliers
Nolan Smith
21
Portland Trail Blazers
Kyle Singler
33
Detroit Pistons
2010
Elliot Williams
22
Portland Trail Blazers
2009
Gerald Henderson
12
Charlotte Hornets
2007
Josh McRoberts
37
Portland Trail Blazers
2006
Shelden Williams
5
Atlanta Hawks
JJ Redick
11
Orlando Magic
2005
Daniel Ewing
32
Los Angeles Clippers
2004
Loul Deng
7
Phoenix Suns
Chris Duhon
38
Chicago Bulls
2003
Danthay Jones
20
Boston Celtics
2002
Jay Williams
2
Chicago Bulls
Mike Dunleavy
3
Golden State Warriors
Carlos Boozer
34
Cleveland Cavaliers
2001
Shane Battier
6
Vancouver Grizzlies
2000
Chris Carrawell
41
San Antonio Spurs
1999
Elton Brand
1
Chicago Bulls
Trajan Langdon
11
Cleveland Cavaliers
Corey Maggette
13
Seattle Supersonics
William Avery
14
Minnesota Timberwolves
1998
Roshown McLeod
20
Atlanta Hawks
1995
Cherokee Parks
12
Dallas Mavericks
Erik Meek
41
Houston Rockets
1994
Grant Hill
3
Detroit Pistons
Antonio Lang
29
Phoenix Suns
1993
Bobby Hurley
7
Sacramento Kings
Thomas Hill
39
Indiana Pacers
1992
Christian Laettner
3
Minnesota Timberwolves
Brian Davis
48
Phoenix Suns
1990
Alaa Abdelnaby
25
Portland Trail Blazers
Phil Henderson
49
Dallas Mavericks
1989
Danny Ferry
2
Los Angeles Clippers
1987
Tommy Amaker
55
Seattle Supersonics
1987
Martin Nessley
116
Los Angeles Clippers
1986
Johhny Dawkins
10
San Antonio Spurs
Mark Alarie
18
Denver Nuggets
Dave Hederson
58
Washington Wizards
Jay Bilas
108
Dallas Mavericks
Greg Wendt
139
Boston Celtics
1985
Dan Meagher
126
Chicago Bulls
1983
Tom Emma
210
Chicago Bulls
1982
Vince Taylor
34
New York Knicks
1981
Gene Banks
28
San Antonio Spurs
Kenny Dennard
78
Kansas City Kings
Leggi anche:
Colorado vince la Stanley Cup NHL: i complimenti NBA dai Denver Nuggets
John Wall cerca buyout dai Rockets: Heat, Clippers, Lakers in attesa
Jaden Ivey non è entusiasta del suo avatar nel videogioco NBA 2k
Parti in viaggio con noi a Miami dal 21 al 28 marzo: due partite NBA con Fan Experience (riscaldamento da bordocampo e meet & greet) e una bella vacanza a South Beach!
SCOPRI L'OFFERTA DI LANCIO SU LESGOUSA.IT